There is one app that is the backbone for everything that I do on my Mac. That app is Alfred!
Most folks refer to Alfred as a launcher, but it is so much more. I use it for text expansion, finding files, launching apps, clipboard history, and more. No bullshit, this is the app that I use most on my Mac every single day.
The core of Alfred is free to download and use forever, with no strings attached, but if you end up liking it, you'll want to check out the advanced features of the optional Powerpack.
New to Alfred? Check out Getting Started with Alfred 5.
These are the features that I use to unlock the full power of my Mac. Each feature listed below is a link to the documentation for that feature. To get the most out of Alfred, I highly recommend that you take the time to read about each feature.
Reference:
Guides and Tutorials – Alfred Help and Support
Tip: You can click the question mark icon in any preference to get to the relevant help page!
I hope this post gave you some insight to what's possible with Alfred.
If you've tried Alfred in the past and felt, that it's the same as Spotlight, I hope this post has changed that view.
If you've never heard of Alfred and are now eager to try it out, give it a go and download it for free.
If you have questions about my setup, please feel free to comment.
The post "The backbone of my Mac – Alfred 5" appeared first on ldstephens.net.
#Alfred #Mac #Productivity #HowTo
Did you know that Alfred's Clipboard History has actions that can be run on the clipboard's contents?
I happened onto this totally by accident. The other day I had a URL on the clipboard and I wanted to open it in Safari.
I knew I could open Safari, navigate to the address bar (⌘+L), activate the clipboard (⌥+⌘+C ), and paste the URL.
That's four steps. It would be nice if I could open the URL in Safari directly from the clipboard. I know that the right → opens additional actions for some items in the Alfred bar so I thought I would try that on a clipboard item. Magically a list of actions opened up.
I discovered that this is part of the Universal Actions feature in Alfred version 4.5. By the way, actions can also be triggered with the Universal Actions keyboard shortcut ⌥+⌘+\.
Alfred 4.5 is an exciting milestone, bringing you a whole new way to use Alfred!

With the new Universal Actions feature, you can select text in your browser, a URL in an email or a file on your Desktop and pop up Alfred's Actions panel to choose what to do with your content. Start anywhere and jump into action.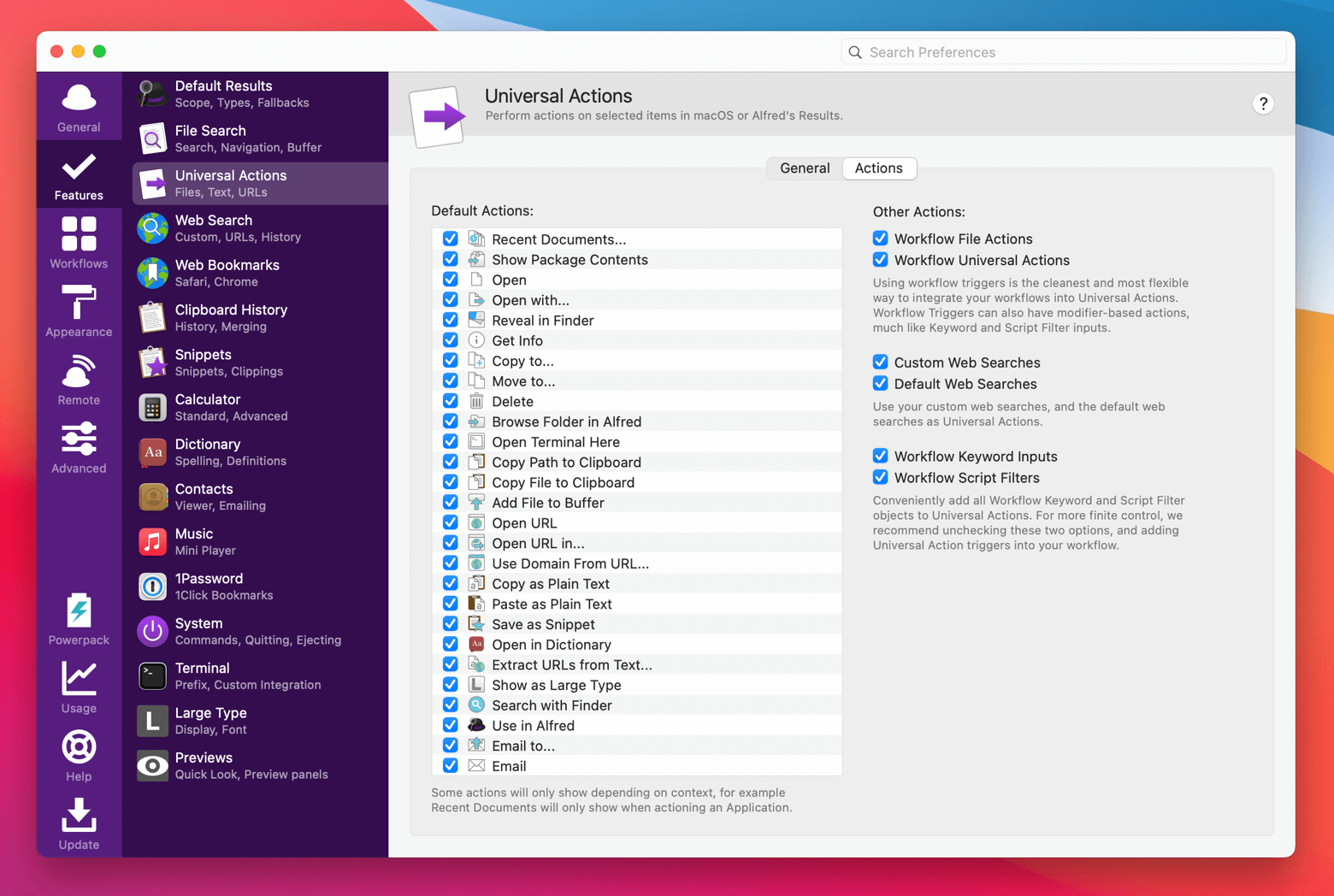 If you're using Alfred and not using Universal Actions you should take the time to check it out.
Yesterday, I wrote about launching Mac apps with keyboard shortcuts using Keyboard Maestro. If you're an Alfred user, you can do the same thing with an Alfred workflow.
As an example, here's my workflow to launch Safari with the hotkey ⌥S. You'll need the PowerPack to do this.
Step one is to create a new blank workflow.
Step two is to set up a hotkey trigger.
Step three is adding the Launch Apps action and dragging in the application(s) you want to open. The easiest way to do this is to search for the application or file in Alfred and drag it directly from Alfred's results into the action box.
Optionally, check the "Toggle visibility for apps" to tell Alfred to show and hide the app. Connect the action to the hotkey to quickly launch the app.
Using keyboard shortcuts lets you perform actions faster and more efficiently, cutting down on mouse and trackpad usage.
In the next day or two, I'll show you how to do this in Raycast. It's super simple. So download it today and in a couple of days, you'll be launching apps with keyboard shortcuts. Remember it's FREE.
Lately, there's been a fair amount of talk about a newcomer in this space called Raycast. It's been discussed on Reddit, MPU talk forums and a few podcasts.
I bought my first Alfred license in 2016. As you might imagine, I'm heavily invested in Alfred. So, until now I've ignored Raycast. I was convinced to give it a try after listening to John Voorhees talk about how he has been using it in episode 257 of App Stories.
So, here's what I'm doing. I'm running Alfred (⌘ spacebar) and Raycast (⌥ spacebar) side by side. For the short period of time that I have been using it, I'm liking it a lot. It could definitely replace Alfred if I had a reason to change.
Raycast is a great app and it's FREE for personal use. You should certainly give it a try.
How is Raycast different to Spotlight, Alfred and other launchers?
Alfred is an app to search your Mac and the web with hotkeys, keywords, text expansions and more. Workflows are used to extend its functionality.

Raycast provides a much richer feature set compared to those launchers. On top of searching local apps and files, it can be your clipboard manager, text expander, window manager, command palette for all apps and much more. Raycast provides much deeper and more native integrations to third party services. You can install extensions for Jira, GitHub, and Google Workspace, amongst others from the Store and control them without ever opening a browser.

Raycast's command line inspired user interface goes beyond searching data. List and detail views provide quick access to important information. Forms make it easy to create new content such as Jira issues, and the Action Panel is used to perform actions such as merging a GitHub pull request. We concentrate on providing a fluid UX throughout the app.

Raycast can be extended to tailor the experience even further with Script Commands and custom extensions which can be built with our flexible API. You can share all that within teams or communities.