Two years ago, I switched from iA Writer to Drafts. I stopped using Drafts a couple of months ago, but I still love Drafts. My workflow doesn't call for all its features anymore. Blame Brett Terpstra's excellent Markdown service tools, Blot simple and efficient file structure, and TextEdit for being more than adequate to write and edit the few blog posts I manage to publish each year.

In a quest for a minimalistic setup, I wanted to find the app that was good enough to either replace or complete TextEdit in my writing workflow.
[…]​
In this list you will not find apps built with Electron — hence the absence of a well-loved app like Obsidian — because not only I might as well list web apps like StackEdit, but I am a firm believer and aficionado of Mac-assed Mac apps.
[…]
To help me decide, I've read once again one of my favourite blog posts of the last couple of years, which comes from Craig Mod. In his article Fast Software, the BestSoftware, he writes: "Speedy software is the difference between an application smoothly integrating into your life, and one called upon with great reluctance."
Nicolas's post got me thinking about the app(s) I use for writing blog posts. It's been inconsistent lately. One day I use Drafts, the next Ulysses, and another iA Writer. That's kinda fucked up.
This site is hosted on write.as. Posts are written using markdown in the built-in editor or by pasting markdown from an external editor. That said Ulysses and iA Writer are overkill when all I need is a minimalistic markdown editor.
The app that I would like to use is Byword. It's a simple markdown editor with word and character count and not a lot more. That's all I need. I don't use it though because it doesn't have a sidebar library which is a must-have for me.
One of the apps in Nicolas' post caught my attention because it sounded a lot like Byword. I'd never heard of uFocus before so I thought I would give it a try. It's like Byword with a sidebar library. I'm writing this post in uFocus, which may be exactly what I'm looking for.
If you like writing in a simple distraction-free text editor this may be an option for you. The app is free to use with an option to support the developer with a donation.
Nicolas, thank you for the blog post.
I use Drafts for clipboard management on iOS and iPadOS. I find this works just as well, if not better, than iOS specific clipboard manager apps. Another advantage to doing this is that my clippings are available on all my devices with Drafts. I like that I can merge my clippings and take action on them right in the app.
What I hadn't thought of was also using Drafts for snippets on iOS and iPadOS until I ran across this post by Greg Pierce. TIP: Using Drafts as a Text Snippet Library
In this article, we are going to step through the setup of a series of tools that allow you to use Drafts as a repository of reusable text snippets. Whether it's canned responses you use in email or fun emoticons for social media, Drafts can be a great place to maintain and access text snippets.

In the process, we'll touch on how to use a number of Drafts' features together to create complete workflows. Even if you are not sure you need a snippet repository, you might pick up a few things about workspaces, actions, and other Drafts tools that you can use in other applications.
I set this up as outlined in the post and it works great.
#HowTo #Drafts #Apps #Productivity
The Washington Post, Stop iPhones from spying on kids with this new app
A frightening number of kids' apps are spying on them. Now parents can get some help to stop it.

A new app called Do Not Track Kids acts like a privacy shield for iPhones and iPads used by children. For $5 per month, it runs in the background of the device to block the companies that harvest personal information from children (and grown-ups too). It also contains cartoon lessons to teach kids about online privacy.

Do Not Track Kids was made by a dad who knows a thing or two about digital snoops: former National Security Agency researcher Patrick Jackson. Today, Jackson is the chief technology officer of Disconnect, a company that also makes privacy software used to power tracking prevention in web browsers including Mozilla's Firefox and Microsoft's Edge.
​[…]
Do Not Track Kids works by hooking into a part of the iPhone's operating system and literally stopping the connections apps, websites and emails make to ad companies and data brokers.
Do Not Track Kids, recently launched in the Apple App Store. My kids are adults but for those with kids at home, this app is worth checking out. ​ #iPhone #Apps #Privacy
I started using Things 3 for task management five years ago. Even though Things was working perfectly for me, I wanted to check out Apple's Reminders with its recent improvements.
So for the last 90 days I have been using Reminders plus GoodTasks to see if it could replace Things. The conclusion that I have come to is that I can.
But I'm going back to Things, and here's why. I prefer the Things UI. It's more compact and easier to read. I also use Things quick entry on Mac and link to tasks in other apps. Neither of these features are available in Reminders. Michael Truskowski, "There are many reasons to stick with Things, some of which are difficult to put in to words (there is a feeling to how it works)."
"Reminders is great, and the new update gives it some much needed new life. Most people will probably be very happy with it. But Things still goes several steps further. Where Apple has hit a nice balance for users with simple needs, Things fulfills so many more needs, while being truly delightful to use in a way Apple has not nailed down yet."
Instapaper iOS 8.2 is now available on the App Store. This release includes in-article search, text justification, and several design updates that make it faster and easier to access some of your favorite Instapaper features.
After a long period of being ignored, it's great to see the developers actively working on and improving Instapaper.
​
Below we'll focus on how it works to Remind Later with Mail on iPhone.
[…]
​Interestingly, when you use Remind Later with Mail, the email that's scheduled for a future reminder is actually sent to the trash folder.
This makes no fucking sense. What happens to that email and reminder when you empty the trash?
Look, I use this feature fairly regularly in a different app. In that app, an email with a reminder is moved to a folder called Snoozed. If I happen to empty the trash in that app my email and reminder aren't affected.
Apple needs to fix this before this feature goes live for everyone.
iA Writer has been in my writing toolbox since 2017. It's not an app that I use every day but often. So next week we're going to get version 6. What I'm most interested in seeing is what the payment model will be. Will it be a one-time purchase with a paid upgrade as it has always been or a subscription? I'm guessing both options will be available.
Did you know that Alfred's Clipboard History has actions that can be run on the clipboard's contents?
I happened onto this totally by accident. The other day I had a URL on the clipboard and I wanted to open it in Safari.
I knew I could open Safari, navigate to the address bar (⌘+L), activate the clipboard (⌥+⌘+C ), and paste the URL.
That's four steps. It would be nice if I could open the URL in Safari directly from the clipboard. I know that the right → opens additional actions for some items in the Alfred bar so I thought I would try that on a clipboard item. Magically a list of actions opened up.
I discovered that this is part of the Universal Actions feature in Alfred version 4.5. By the way, actions can also be triggered with the Universal Actions keyboard shortcut ⌥+⌘+\.
Alfred 4.5 is an exciting milestone, bringing you a whole new way to use Alfred!

With the new Universal Actions feature, you can select text in your browser, a URL in an email or a file on your Desktop and pop up Alfred's Actions panel to choose what to do with your content. Start anywhere and jump into action.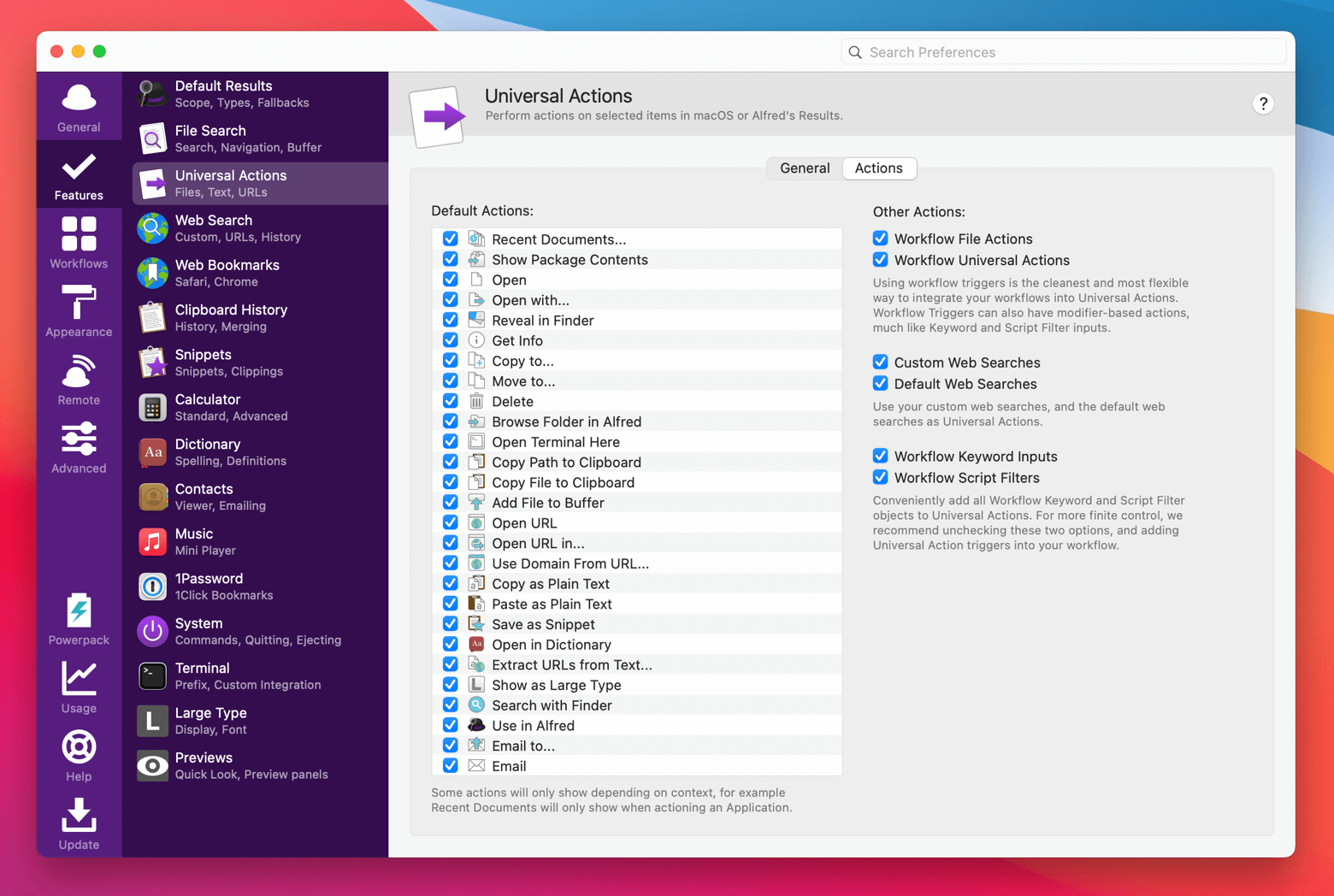 If you're using Alfred and not using Universal Actions you should take the time to check it out.
Have you ever wanted to try Drafts app? Well, there has never been a better time than now. Drafts is where I capture all my ideas, tasks, and jot down notes all for later action. In the near future, I plan to write in more detail about how I use Drafts.
That's right, Drafts launched on this day 10 years ago. And we are celebrating with a special offer for new Drafts Pro users!

Get your first year for only $4.99 (75% off)!
NEWS: 10 Years of Drafts.

That's right, Drafts launched on this day 10 years ago. And we are celebrating with a special offer for new Drafts Pro users!

Get your first year for only $4.99 (75% off)! Details: https://t.co/49ksfFhie8 pic.twitter.com/H2pdb7zdVi

— Drafts (@draftsapp) April 7, 2022
You'll either love it or hate it
Overcast has been around since 2013 and has a significant following. It has been my podcast player since 2015. On Friday, March 25th Marco released Overcast's latest update (2022.2). "It brings the largest redesign in its nearly-eight-year history, plus many of the most frequently requested features and lots of under-the-hood improvements."
Reading the iOS App Store reviews, folks either love it or hate it. I don't love it or hate it, but I do prefer the old version.