Read-later services have come and gone since Instapaper's debut, but the original survives. The app and service both remain free, although you can opt for a 'premium' subscription, which adds archive text search, text-to-speech and speed-reading functionality.
[…]
Q&A: a brief history of Instapaper

We speak to Instapaper co-founder Marco Arment (also of Overcast fame) about the birth and development of the app and the secret of its success.
It intentionally had no social features — I designed it solely for personal utility, not sharing or promotion. Instapaper was the first service that combined quick saving with a text-optimized reading view and offline access.
No social features are the very reason Instapaper has always been my read-it-later app of choice. Newer apps like Matter and UPNext have a heavy emphasis on social and less so on the reading experience.
[…]
Instapaper has never been a mainstream tool – rather, it has always. appealed to the most die-hard readers and nerds. These groups are relatively small but extremely loyal and passionate, and so Instapaper just needs to keep overheads low and customers happy to have a sustained, long-term business.
After using Todoist for 2 weeks, I've decided to stick with Things. Here's why.
These three things were a dealbreaker for Todoist:
This first item is a privacy issue and a big deal for me. In Todoist, if you delete a task, it is not actually deleted because there is an entry made in the Activity Log for the deleted item. The Activity Log is a log of every single thing you've done in Todoist, and there is only one way to delete the log. That is to delete your account. In Things, a deleted task is deleted and not recorded in the Logbook. And, any or all items in the Logbook can be deleted.
In Todoist, having to assign a project to every task was annoying.
In Todoist, you cannot create a checklist within a task. This is something that a do fairly often in Things.

In addition, the aesthetic of Things is much cleaner and more organized, and I can also see my calendar events. I did like Todoist's' natural language entry. I would like to see that in Things at some point.
Update March 20, 2022: After using Todoist for 2 weeks, I've decided to stick with Things. Here's why.
I have a long history with Todoist going back over 10 years but in 2017 I switched to Things when version 3 was introduced. Today, I'm seriously considering moving back to Todoist, and here's why.
First, let me clarify that this is strictly speculation on my part. Things 3 has been around for 5 years now and I'm thinking that a version 4 must be coming soon. With that in mind, the upgrade will be either a purchase (remember each platform Mac, iPad, and iPhone is a separate purchase) or a subscription.
To get ahead of this possibility, I've been using the free version to Todoist to see if it meets my simple task manager needs. Not surprisingly it does. Plus it has several features that aren't currently available in Things.
Natural language entry (this is a big plus for Todoist)
More personalization options
App integrations (Fantastical)
More view options (plus boards)
Browser Extension for multiple browsers
And a web app
Back to Todoist?
Update March 8, 2022: I have been using this macro since 2017. Today it was brought to my attention that getting URLs from Safari no longer requires Apple Script. There is now a Token for that:
Getting URLs from Safari is something that I do multiple times everyday. What this macro does is it gets the URL of the active tab in Safari, puts it on the clipboard, and then pastes it into whatever text I'm working on. I can't tell you how much time this has saved me over the years. It sure beats doing it by-hand.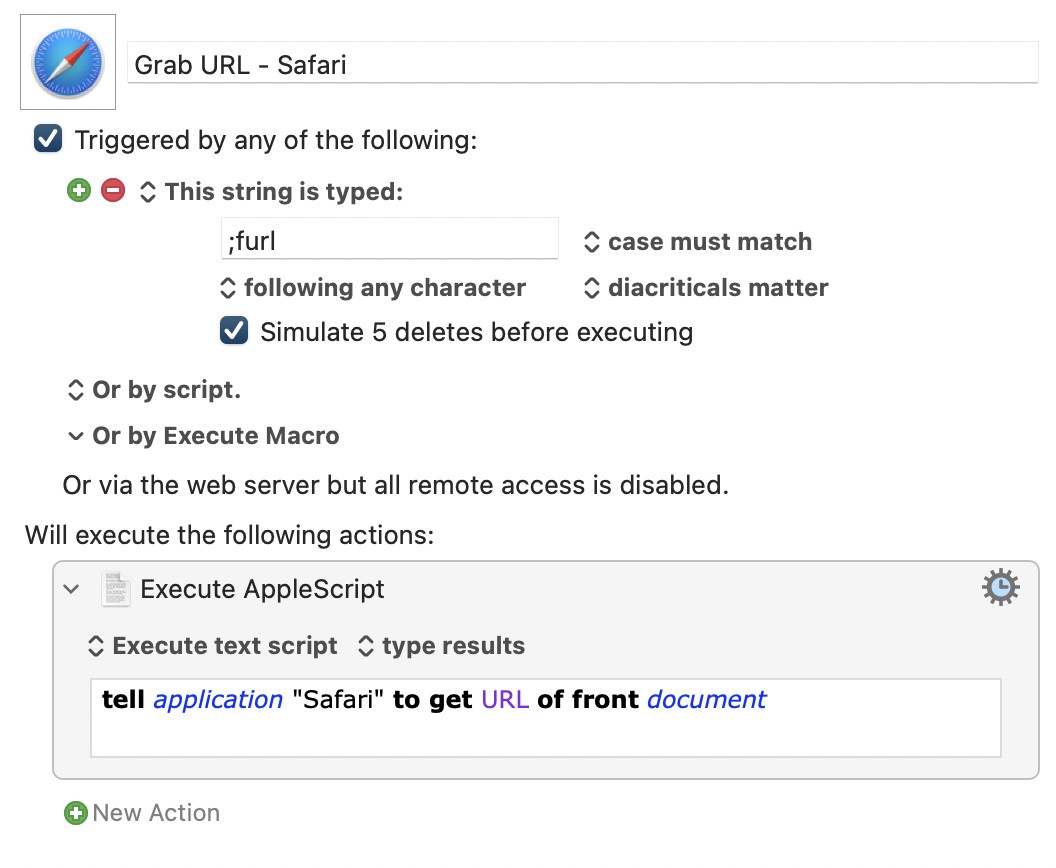 #HowTo #Mac #Apps #KeyboardMaestro
I've written about launching Mac apps with keyboard shortcuts using Keyboard Maestro and Alfred now here's how to do it using Raycast.
First launch Raycast (I use ⌥ spacebar). In the entry field type Extensions then select Applications from the Extensions list and for this example select Safari. Under the Hotkey tab, you'll see Record Hotkey.
Click on the Safari Hotkey field and Record your keyboard shortcut. I used ⌥ S.
That's it! From now typing ⌥ S will launch Safari.
Using keyboard shortcuts lets you perform actions faster and more efficiently, cutting down on mouse and trackpad usage.
By the way, if you're not using Alfred you should be using Raycast. It does almost everything that Alfred does and it's FREE.
Yesterday, I wrote about launching Mac apps with keyboard shortcuts using Keyboard Maestro. If you're an Alfred user, you can do the same thing with an Alfred workflow.
As an example, here's my workflow to launch Safari with the hotkey ⌥S. You'll need the PowerPack to do this.
Step one is to create a new blank workflow.
Step two is to set up a hotkey trigger.
Step three is adding the Launch Apps action and dragging in the application(s) you want to open. The easiest way to do this is to search for the application or file in Alfred and drag it directly from Alfred's results into the action box.
Optionally, check the "Toggle visibility for apps" to tell Alfred to show and hide the app. Connect the action to the hotkey to quickly launch the app.
Using keyboard shortcuts lets you perform actions faster and more efficiently, cutting down on mouse and trackpad usage.
In the next day or two, I'll show you how to do this in Raycast. It's super simple. So download it today and in a couple of days, you'll be launching apps with keyboard shortcuts. Remember it's FREE.
This morning as I sat down at my iMac to start my day, the first thing I did was launch Things, Drafts, Ulysses, and Safari. I do this using keyboard shortcuts. While doing this, it occurred to me that this isn't the way most people launch apps on their Mac, so I want to share how I do this with you.
Using keyboard shortcuts lets you perform actions faster and more efficiently, cutting down on mouse and trackpad usage. So, how do I create these keyboard shortcuts? I do it using Keyboard Maestro. Within Keyboard Maestro I have a Group called Launch Apps. This is where all my launcher macros live. Here's the launcher macro, which you can duplicate:
Repeat this for all the apps that you would like to launch using a keyboard shortcut. If you create the macro the way I have, the hotkey will show and hide the app.
Tomorrow I'll walk you through how to launch apps with keyboard shortcuts using Alfred.
#HowTo #Mac #Apps #KeyboardMaestro
Filipe Espósito, writing for 9to5Mac
As shown by StatCounter (via TechRadar), Safari remains the second most-used desktop web browser in the world as of January 2022, but two of its competitors are close to taking over second place this time around.

While Safari is used by 9.84% of desktop users, Microsoft Edge is right behind with 9.54% market share. Firefox, which had only 8.1% share in January 2021, has gained new users during the past few months and now has 9.18% of the desktop market share. Unsurprisingly, Google Chrome is still in first place with 65.38% of the share.

By comparison, 10.38% of desktop users were surfing the web with Safari in January 2021, which suggests that Apple's web browser has been losing ground to other alternatives. If Safari continues to lose users, it will probably slip to the third or fourth place in the ranking over the next few months.
What I find interesting here is that there is no mention of Brave or Vivaldi, which seem to be fairly popular browsers these days. I'm guessing that their market share may be too small to measure. So in the larger scheme of things, they're not really as popular as one might think.
I was surprised to see that Firefox has been gaining new users. Safari has always been my primary browser, with Firefox as backup. But after Firefox started working with Facebook on a new proposal that aims to enable conversion measurement – or attribution – for advertising, I installed Brave and have been using it as my backup browser.
Lately, there's been a fair amount of talk about a newcomer in this space called Raycast. It's been discussed on Reddit, MPU talk forums and a few podcasts.
I bought my first Alfred license in 2016. As you might imagine, I'm heavily invested in Alfred. So, until now I've ignored Raycast. I was convinced to give it a try after listening to John Voorhees talk about how he has been using it in episode 257 of App Stories.
So, here's what I'm doing. I'm running Alfred (⌘ spacebar) and Raycast (⌥ spacebar) side by side. For the short period of time that I have been using it, I'm liking it a lot. It could definitely replace Alfred if I had a reason to change.
Raycast is a great app and it's FREE for personal use. You should certainly give it a try.
How is Raycast different to Spotlight, Alfred and other launchers?
Alfred is an app to search your Mac and the web with hotkeys, keywords, text expansions and more. Workflows are used to extend its functionality.

Raycast provides a much richer feature set compared to those launchers. On top of searching local apps and files, it can be your clipboard manager, text expander, window manager, command palette for all apps and much more. Raycast provides much deeper and more native integrations to third party services. You can install extensions for Jira, GitHub, and Google Workspace, amongst others from the Store and control them without ever opening a browser.

Raycast's command line inspired user interface goes beyond searching data. List and detail views provide quick access to important information. Forms make it easy to create new content such as Jira issues, and the Action Panel is used to perform actions such as merging a GitHub pull request. We concentrate on providing a fluid UX throughout the app.

Raycast can be extended to tailor the experience even further with Script Commands and custom extensions which can be built with our flexible API. You can share all that within teams or communities.
Corbin Davenport, writing for XDA-Developers
The companies are working together on a new proposal for ad interaction tracking

Mozilla, owner, and developer of the Firefox browser, has attacked Facebook (now Meta) many times over the years for the company's disastrous record on privacy and security. However, the two companies are now working together on a proposal for slightly more private online advertising, which is already drawing criticism from long-time fans of Mozilla.
​Mozilla in a blog post on Tuesday, "For the last few months we have been working with a team from Meta (formerly Facebook) on a new proposal that aims to enable conversion measurement – or attribution – for advertising called Interoperable Private Attribution, or IPA. IPA aims to provide advertisers with the ability to perform attribution while providing strong privacy guarantees. IPA has two key privacy-preserving features. First, it uses Multi-Party Computation (MPC) to avoid allowing any single entity — websites, browser makers, or advertisers — to learn about user behavior."
My first response after reading this was "You've got to be fucking kidding me!" I have been using Firefox ever since I've been using a computer. And that's a long time! Today it's second fiddle behind Safari but I still use it several times a week.
I'm still trying to figure out what I'm going to do about this? I am pro-Mozilla, but I'm much more anti-Facebook. As of today, Brave is on my Mac.
The comments in the Firefox subreddit are very critical of this move by Mozilla.