Two years ago, I switched from iA Writer to Drafts. I stopped using Drafts a couple of months ago, but I still love Drafts. My workflow doesn't call for all its features anymore. Blame Brett Terpstra's excellent Markdown service tools, Blot simple and efficient file structure, and TextEdit for being more than adequate to write and edit the few blog posts I manage to publish each year.

In a quest for a minimalistic setup, I wanted to find the app that was good enough to either replace or complete TextEdit in my writing workflow.
[…]​
In this list you will not find apps built with Electron — hence the absence of a well-loved app like Obsidian — because not only I might as well list web apps like StackEdit, but I am a firm believer and aficionado of Mac-assed Mac apps.
[…]
To help me decide, I've read once again one of my favourite blog posts of the last couple of years, which comes from Craig Mod. In his article Fast Software, the BestSoftware, he writes: "Speedy software is the difference between an application smoothly integrating into your life, and one called upon with great reluctance."
Nicolas's post got me thinking about the app(s) I use for writing blog posts. It's been inconsistent lately. One day I use Drafts, the next Ulysses, and another iA Writer. That's kinda fucked up.
This site is hosted on write.as. Posts are written using markdown in the built-in editor or by pasting markdown from an external editor. That said Ulysses and iA Writer are overkill when all I need is a minimalistic markdown editor.
The app that I would like to use is Byword. It's a simple markdown editor with word and character count and not a lot more. That's all I need. I don't use it though because it doesn't have a sidebar library which is a must-have for me.
One of the apps in Nicolas' post caught my attention because it sounded a lot like Byword. I'd never heard of uFocus before so I thought I would give it a try. It's like Byword with a sidebar library. I'm writing this post in uFocus, which may be exactly what I'm looking for.
If you like writing in a simple distraction-free text editor this may be an option for you. The app is free to use with an option to support the developer with a donation.
Nicolas, thank you for the blog post.
I have been considering a new MacBook for several months but since I have a base model M1 iMac I have been putting it off. I missed having a laptop. I was getting tired of being tied down to my desk to use my Mac. I like to be able to move around the house. I knew what I was missing because I used to have a 2015 MacBook Pro.
So, last Friday I finally caved in and went to my local Apple Store and picked up a new base model M1 MacBook Air. I'm typing this article on my new Air while watching TV in my comfy chair in the living room.
Coincidentally Lee Peterson posted an update on using his M1 MacBook Air today. It reinforced the idea that I had made the right decision in buying the M1 MacBook Air. Lee Peterson, M1 MacBook Air: 500 days later
I've realised today that I've been using my base model M1 MacBook Air (8GB RAM) for just over 16 months and wanted to reflect on how it's been as my main machine over that time.
​[…]
After this 16 months my battery is at 93% of its maximum capacity, I have no idea if this is good or not but it still gets me through several days no problem.
​[…]
I wasn't sure on the 8GB RAM on my model but in hindsight for me it was the right choice.
​[…]
If you are like me and using it for writing, email, listening to music, productivity and to be honest most of what most users do then don't even think you'll be missing out, get the 8GB RAM model
This is exactly how I use a computer.
​Would I still recommend an M1 MacBook Air in 2022? Yes, it's still the best value in computing in my opinion. The M2 MacBook Air looks amazing but in terms of performance it's not a massive jump from this M1 for most people and you'll save yourself £400 at the same time.
What am I going to do with my iMac?
I'm not sure yet, but I think I will probably sell it. I checked its value on Apple trade-in and SellYourMac, which is where I sold my 2015, and the quote I got was $515.00. If anyone is interested in buying it please reach out to me via my contact page.​
There is one app that is the backbone for everything that I do on my Mac. That app is Alfred!
Most folks refer to Alfred as a launcher, but it is so much more. I use it for text expansion, finding files, launching apps, clipboard history, and more. No bullshit, this is the app that I use most on my Mac every single day.
The core of Alfred is free to download and use forever, with no strings attached, but if you end up liking it, you'll want to check out the advanced features of the optional Powerpack.
New to Alfred? Check out Getting Started with Alfred 5.
These are the features that I use to unlock the full power of my Mac. Each feature listed below is a link to the documentation for that feature. To get the most out of Alfred, I highly recommend that you take the time to read about each feature.
Reference:
Guides and Tutorials – Alfred Help and Support
Tip: You can click the question mark icon in any preference to get to the relevant help page!
I hope this post gave you some insight to what's possible with Alfred.
If you've tried Alfred in the past and felt, that it's the same as Spotlight, I hope this post has changed that view.
If you've never heard of Alfred and are now eager to try it out, give it a go and download it for free.
If you have questions about my setup, please feel free to comment.
The post "The backbone of my Mac – Alfred 5" appeared first on ldstephens.net.
#Alfred #Mac #Productivity #HowTo
Back in 2018 I decided I was ditching Android for an iPhone. Since then my Apple devices have continued to grow. Have I become a fanboy? I recently bought my seventh Apple device to add to my ever growing collection of iStuff. Here's what I currently own:
This reminds me of my iCreep journey. Only mine started back in December 2014 when the keyboard on my Android went to hell. I replace it with a refurbished iPhone 6 Plus from Verizon.
Next came an iMac to replace my Windows computer. In 2015 I decided it would be nice to have so I got a MacBook Pro. I loved it so much that I finally sold the 2013 iMac.
I was never interested in an iPad but I eventually got one. It was the cheapest base model and as it turned out I never used it all that much.
Today I'm all in with Apple devices.
iPhone 11
M1 iMac
iPad Air
Magic Keyboard for iPad
Apple Pencil
Apple Watch
Air Pods Pro
I wouldn't call myself a "fanboy" but I love my Apple products.
The post "iCreep" appeared first on ldstephens.net.
Finally! Apple Mail app on Mac, iPhone, and iPad is getting Undo Send, schedule emails and reminders (snooze) to follow-up.

Finally! iPadOS 16 Finder will have the ability to view folder size and extension, and the ability to change a files extensions.

iOS 16 will push standalone security updates to iOS 16 devices between standard software updates.
Did you know that Alfred's Clipboard History has actions that can be run on the clipboard's contents?
I happened onto this totally by accident. The other day I had a URL on the clipboard and I wanted to open it in Safari.
I knew I could open Safari, navigate to the address bar (⌘+L), activate the clipboard (⌥+⌘+C ), and paste the URL.
That's four steps. It would be nice if I could open the URL in Safari directly from the clipboard. I know that the right → opens additional actions for some items in the Alfred bar so I thought I would try that on a clipboard item. Magically a list of actions opened up.
I discovered that this is part of the Universal Actions feature in Alfred version 4.5. By the way, actions can also be triggered with the Universal Actions keyboard shortcut ⌥+⌘+\.
Alfred 4.5 is an exciting milestone, bringing you a whole new way to use Alfred!

With the new Universal Actions feature, you can select text in your browser, a URL in an email or a file on your Desktop and pop up Alfred's Actions panel to choose what to do with your content. Start anywhere and jump into action.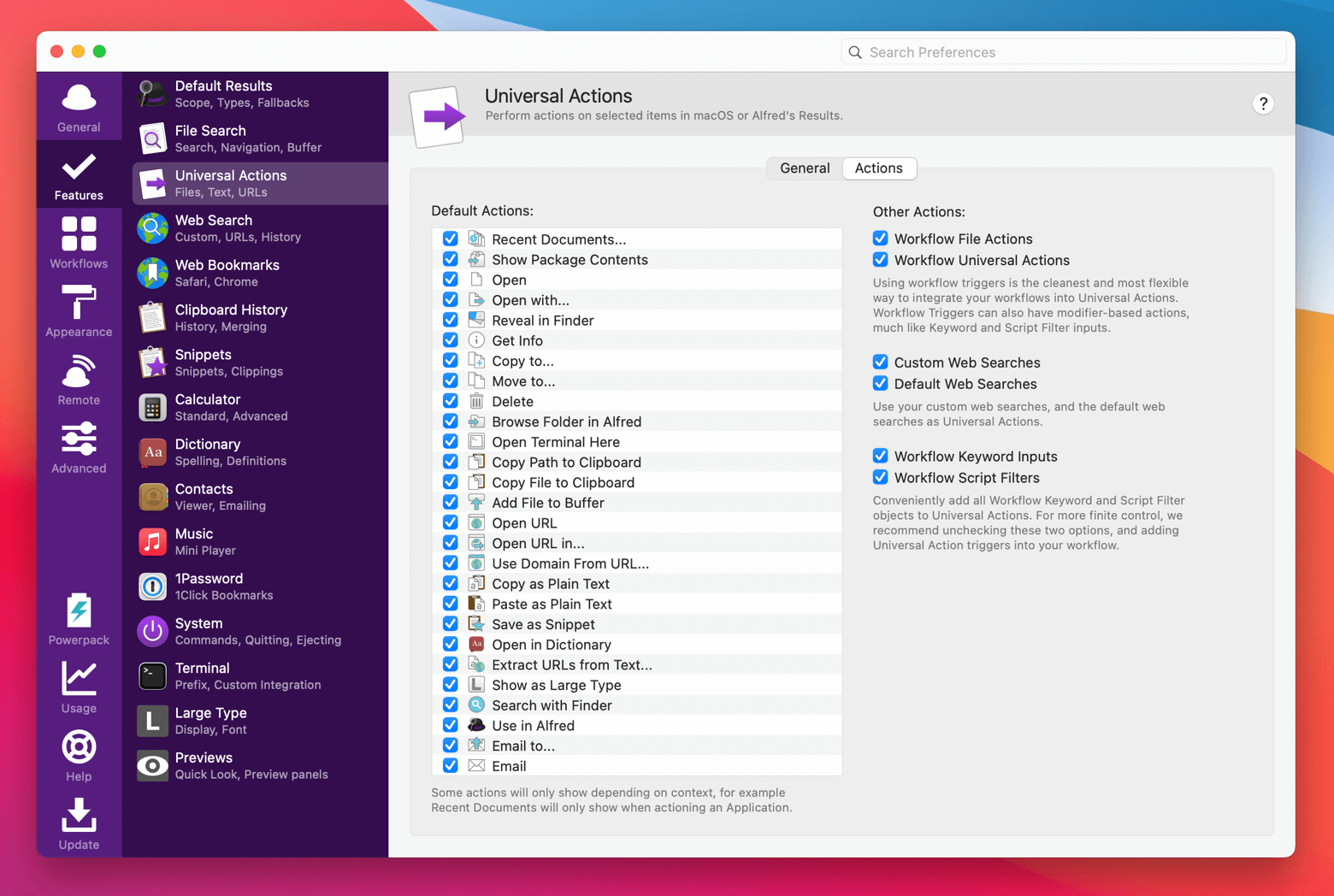 If you're using Alfred and not using Universal Actions you should take the time to check it out.
Chris Welch, writing for The Verge
When using Universal Control, you can use the keyboard and cursor from your Mac to control an iPad sitting beside it — and the opposite scenario also works. If you've got a Magic Keyboard for an iPad Pro, you can use that accessory's keyboard and trackpad to control a Mac.
Universal Control is like magic. So cool! This will undoubtedly change my workflow between my Mac and iPad.
After using Todoist for 2 weeks, I've decided to stick with Things. Here's why.
These three things were a dealbreaker for Todoist:
This first item is a privacy issue and a big deal for me. In Todoist, if you delete a task, it is not actually deleted because there is an entry made in the Activity Log for the deleted item. The Activity Log is a log of every single thing you've done in Todoist, and there is only one way to delete the log. That is to delete your account. In Things, a deleted task is deleted and not recorded in the Logbook. And, any or all items in the Logbook can be deleted.
In Todoist, having to assign a project to every task was annoying.
In Todoist, you cannot create a checklist within a task. This is something that a do fairly often in Things.

In addition, the aesthetic of Things is much cleaner and more organized, and I can also see my calendar events. I did like Todoist's' natural language entry. I would like to see that in Things at some point.
Update March 20, 2022: After using Todoist for 2 weeks, I've decided to stick with Things. Here's why.
I have a long history with Todoist going back over 10 years but in 2017 I switched to Things when version 3 was introduced. Today, I'm seriously considering moving back to Todoist, and here's why.
First, let me clarify that this is strictly speculation on my part. Things 3 has been around for 5 years now and I'm thinking that a version 4 must be coming soon. With that in mind, the upgrade will be either a purchase (remember each platform Mac, iPad, and iPhone is a separate purchase) or a subscription.
To get ahead of this possibility, I've been using the free version to Todoist to see if it meets my simple task manager needs. Not surprisingly it does. Plus it has several features that aren't currently available in Things.
Natural language entry (this is a big plus for Todoist)
More personalization options
App integrations (Fantastical)
More view options (plus boards)
Browser Extension for multiple browsers
And a web app
Back to Todoist?
Check this video out for a quick review of everything that Apple announced today.
Tuesday, March 8, 2022, 2:06 pm PST by Juli Clover
Today's "Peek Performance" event was more exciting than we initially thought it would be, with Apple debuting a new Mac Studio machine and Studio Display alongside a 5G version of the iPhone SE with A15 chip and an M1 iPad Air with 5G chip.